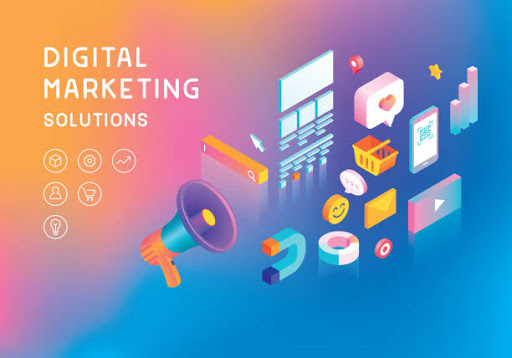 Digital marketing works is a series of marketing activities using digital media. This will work for businesses that have gone online, for example, have a website or a marketplace account. All of these things will be optimized using digital marketing. Without this digital marketing is not able to achieve its true marketing goals, for example increasing sales or service users.
In general, digital marketing can work organic (unpaid) or paid marketing (paid).
How Digital Marketing Works
Build a Website or Marketplace account for the business to be promoted
As stated above, a website or marketplace account is something that is promoted using digital marketing. Because the website or marketplace account will display the actual product or service.
Make a post on the website or Marketplace account (Organic Marketing)
This post can be an article post or a product catalog that has a specific URL. This URL will be linked to the ad displayed using digital marketing.
Digital marketing advertising media (Paid Marketing)
There are many digital advertising media ranging from social media such as FB Ads, search engines such as Google AdWords, and others.
Conduct market analysis (Paid Marketing)
The market analysis largely determines the performance of the ads that appear and the targeting of ads to generate the right ad audience. In addition, it can also save the advertising budget.
Create attractive advertisements by linking the website or marketplace posts (Paid Marketing)
Attractive ads will make the audience pay special attention to the ad, such as reading, clicking, to buying products. The more attractive the ad, the higher the audience interaction when viewing the ad.
Advertising publications (Paid Marketing)
After all the steps above are ready, then the ad is published using the budget that has been determined. Each advertising medium requires different costs and different performance.
Generate customers from those ads
The real goal is to generate customers from the ad. You will see changes that occur, ranging from businesses that are getting known, website visits increase, reputation gets better, to an increase in sales of goods or services.
Digital Marketing Concepts to Help Online Business
Finding new customers online
Many people are online every second. These people have the potential to become customers of an online business. By using digital marketing, online businesses can reach these people.
Selling products or services through a website or application
As stated above, digital marketing will optimize websites or applications owned by online businesses. So that the actual marketing goal can be achieved, namely selling products or services.
Delivering targeted advertising to customers
Digital marketing can reach a targeted advertising audience, meaning that ads only appear to the right people. For example, people looking for laptops will see a laptop ad.
Learn more about what customers like
By using digital marketing, online businesses will better know what customers like. Digital marketing can analyze customer behavior, which ads they open often and generate more consumers.
Using marketing analytics to strengthen online sales
Marketing analysis in the field of digital marketing greatly affects the performance of the ads created. There are many methods and research tools that can be used, such as looking at market trends using Google Trends, analyzing online sales data, and others.
---